What is Durapoint Flexible Roof Pointing Compound from Evolving Elements?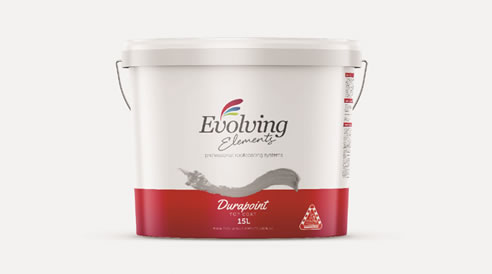 Roof coating systems require a flexible roof pointing compound to ensure optimum long-term performance, especially under the wide temperature ranges across Australia. For the finest quality, leading industry experts choose JPS Coatings.
Flexible Roof Pointing Compound by JPS Coatings
Roof pointing is a proven roofing technique, in which a specialised compound is applied over the top of the roof bedding. This second layer helps create a stronger hold on tiles while sealing the roof against dust and water. Optimising durability with flexibility, JPS Coatings are proud to present their take on roof pointing compounds, Durapoint.
Durapoint is based on a cutting-edge formula, allowing for superior performance under fickle weather conditions. Traditional cement mortar tends to crack and allow water penetration after some time. Durapoint is designed to prevent such scenarios in the long term with a flexible finish, that expands and contracts, as temperatures change. The flexible roof pointing compound is made to waterproof roofs for over a decade, before repointing is once again in order.
Durapoint is applied over bedding mortar for both old and new roof tiles, including concrete and unglazed terracotta tiles. The roof pointing compound is not compatible with fibre cement sheets.
As with all their products and services, Evolving Elements Durapoint is fully covered by a 10-year warranty from JPS Coatings.