How to Render Lightweight Polystyrene Cladding by JPS Coatings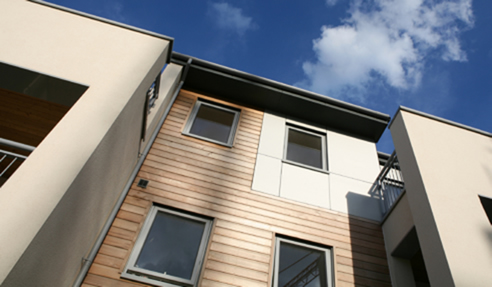 Render application enhances the visual appeal of any residential or commercial complex. It also protects the structure from premature deterioration caused by natural elements like UV rays, frost, rain and wind. Traditional render application uses a mixture of sand, lime and water to create a paste-like substance for rendering internal or external concrete wall structures.
Rendering Lightweight Polystyrene Cladding with JPS Coatings Polyboard
JPS Coatings in-depth knowledge and experience in the building and construction sector have positioned them front and centre in developing effective materials to improve on the industry standards.
The secret to achieving the best rendering results is thorough mixing of materials, correct thickness application and waiting patiently for the curing time. Polyboard Render is a premixed; cementitious base coat manufactured to offer excellent adhesion to low absorbency substrates like expanded polystyrene sheets.
1. Prepare all the necessary materials needed in rendering application.
2. Make sure that the substrate is clean, dry and free from all forms of powdery or oily residue that can affect the adhesion of Polyboard render.
3. Start preparing the mixture by pouring the 20 kg bag of Polyboard render into a clean and dry bucket. Pour in 5 to 5.5 litres of clean water into the bucket and mix until the desired lump-free; thick consistency is achieved. The amount of water may slightly vary, but it should not exceed 5.5 litres for every 20 kg bag of Polyboard render. Excess water mixture can lead to surface crazing, delamination and cracking. Let the mixture settle for 5 to 10 minutes, then remix.