Monitor Light Screen Mounted Luto from Brightgreen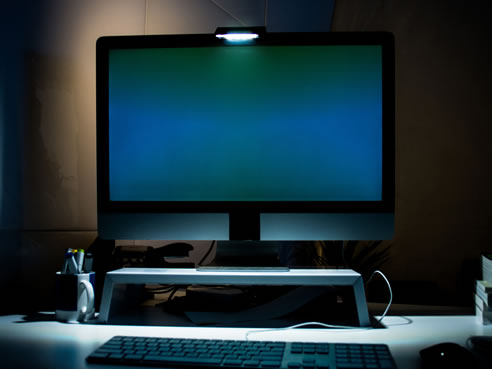 Brightgreen Ideahub launches Luto, a smartlight for screen environments,
on global crowdfunding platform Kickstarter
Melbourne based premium LED lighting company Brightgreen launches Luto - a low-energy, monitor-mounted smartlight that creates the optimal illuminated environment for screen-based activities.
Luto is the first product developed by Brightgreen's in-house think tank, the Brightgreen Ideahub. Its launch coincides with the expansion of Kickstarter into the Australian market.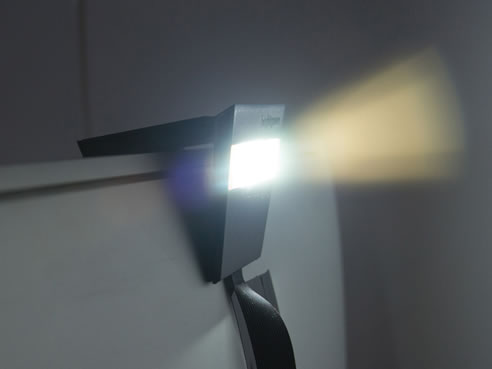 Luto is comprised of a 300-lumen front-facing task light and a 600-lumen back-facing LED panel. The task light provides high-quality Tru-Colour 95CRI illumination directly onto your desk, making it ideal for creatives who need to inspect material samples and match colour swatches. The back-facing panel generates the appropriate ambient lighting level for the area around your screen, reducing eye strain and fatigue.
The screen-mounted device clips onto the top of the user's monitor and is powered via a standard power source. It plugs into the computer via a USB port and comes with LightApp, a simple piece of software designed to monitor and adjust lighting levels, letting the user choose the colour temperature and intensity of the light it emits.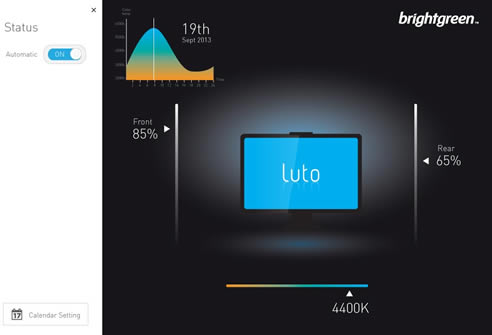 Sensors embedded in Luto detect surrounding light levels, allowing the backlight to generate ambient light of around 60% of the screen's brightness.
Alternatively the colour temperature and intensity of the light emitted by Luto can be adjusted manually, letting the user choose cool light to improve productivity and alertness during a work session, or warm light to relax the brain when winding down.
Luto includes several additional features:
Variable colour temperature from warm 2000K light to cool 5000K light
Streamlined aluminium form
Red/green status indicator LED to notify others that you are busy or available
Works with both PC and Mac platforms
Syncs with calendar software such as iCal
Fits a variety of monitors from 10-50mm thick
Fits above built-in webcams
Luto is available as standard in black and silver anodized finishes and as a limited edition in a cyan colourway.
For more information about Luto and to view the video pitch, visit the project Kickstarter page: http://www.kickstarter.com/projects/brightgreen/luto-smartlight-illumination-for-screen-environmen