Spotted Gum GL18 Posts from Simmonds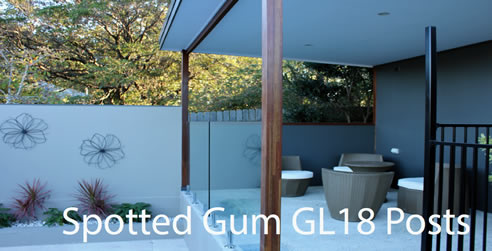 Spotted Gum GL18 Posts
Simmonds is proud to offer Spotted Gum GL 18 Posts in conjunction with Parkside Timber. Parkside Timber has been producing hardwood products for Australians for over 60 years. The natural durability of the species produced plus the high manufacturing standards held by Parkside Timber makes their products one of the highest quality in the marketplace.
GL 18 Laminated Posts are a beautiful feature to any home, and some of the key benefits are;
Only post of its type in Australia
Qld Spotted Gum is one of Australia's favourite species
Well-crafted and beautiful finish ready to coat
Utilizes a tried and proven lamination glue - resorcinol glue which is suitable for the toughest of applications
GL TAA certified posts, ensuring quality and consistency of product
Durability Class 1 above Ground product
Well constructed laminated design, ensuring quality and stability
Manufactured to AS/NZS 1328.1 :1998
Dressed Pencil Round all 4 Edges
Fire Rated in accordance with AS1720.4 to BAL 29
SPOTTED GUM... the right choice
QLD Spotted Gum has been tried and proven for over 100 years in Australian conditions, and due to its unique grain and stunning appearance, this durable species is ideal for GL 18 Post applications.