Structural Bracing Board Swiss OSB from Simmonds Lumber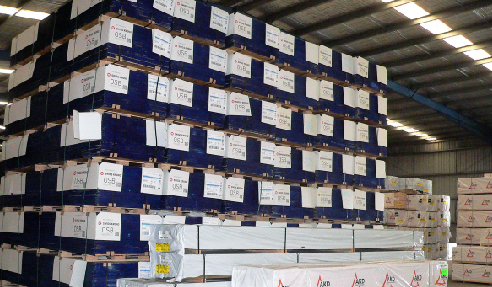 Modern Swiss OSB Finally Making Waves in Australia
OSB (Oriented Strand Board) is the most widely used, versatile structural board for bracing, flooring and sheeting in timber frame buildings in many parts of the world. The Swiss OSB structural bracing board is made from waterproof heat-cured adhesives and rectangularly shaped wood strands that are arranged in cross-oriented layers.
The Swiss OSB structural bracing board is an engineered wood panel that shares many of the strength and performance characteristics of plywood. The panel structure not only gives its characteristic look but also delivers its exceptionally high-level bending strength.
Simmonds Lumber's Swiss OSB structural bracing board combination of wood and adhesives produces a strong, dimensionally stable panel that is resistant to deflection, delamination, and warping even when subjected to demanding wind and seismic conditions.
A spokesperson for Simmonds Lumber, Jacinta Colley stated, water moisture repellent, durable, fit-for-purpose, cost-effective, and environmentally sensitive modern OSB is now making its presence felt in the Australian market.
She said Simmonds Lumber's OSB, SimBoard® OSB, is manufactured by the Switzerland-based Swiss Krono Group.
"For more than 50 years, the Swiss Krono Group has been developing industrial timber products of the highest quality and of outstanding value for money. The Swiss Krono Group meets the highest technical and strictest ecological requirements."
If you are looking for a sustainable yet highly-durable and functional structural bracing board, contact Simmonds Lumber or visit www.simmondslumber.com.au for more details today.