Polystyrene Roof Spacers for the Built Environment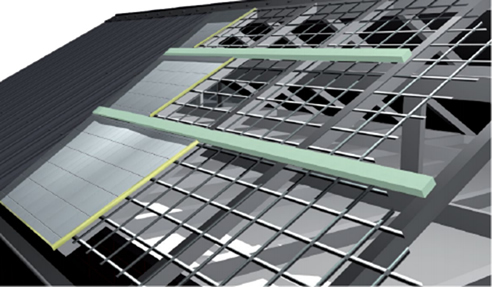 Using polystyrene roof spacers for roof and wall junctions helps to reduce thermal loss by preventing the occurrence of thermal bridging. It is one of the hidden heat loss paths that needs to be addressed to maximise insulation inside commercial, industrial or residential settings.
As one of the national industry leaders in developing innovative uses for expanded and extruded polystyrene, Foamex designs and manufactures PurLink® polystyrene roof spacers.
PurLink® polystyrene roof spacers are made with high quality extruded polystyrene that complies with the Building Code of Australia. A closed cellular matrix accounts for the spacers high resistance to moisture buildup and water infiltration that can affect thermal efficiency. PurLink® is also known for its high compressive strength, durability, dimensional stability and lightweight properties.
Another feature that makes polystyrene roof spacers standout from other roof spacers is the double-sided tape system, making installation fast and easy. PurLink® provides a thermal break that allows insulation to recover to its nominal thickness. Hence, maximising thermal efficiency and enhancing long-term R-values.
PurLink® polystyrene roof spacers are available in a wide range of sizes to suit most commercial roofing applications. Cut using purpose-built hotwire cutters that can produce 1.4 km of PurLink® per one cutting pass, Foamex can supply and deliver large quantities of PurLink® within 24 hours after an order has been placed.