Underfloor Polystyrene Insulation: Expol™ by Foamex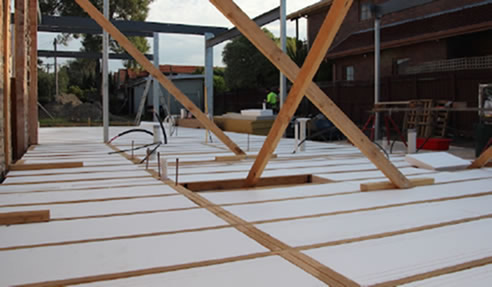 Compared to external walls, more energy is lost through a homes floor and ceilings combined, as the hot air rises from the ground to the ceiling level. In addition, the floor is often in contact with the coldest air from the outside environment, leading to an estimated 15% loss of internal heating or cooling.
To prevent heat loss and achieve maximum heat retention, Foamex created Expol™ underfloor polystyrene insulation.
What is Expol™ Underfloor Polystyrene Insulation?
Expol™ underfloor polystyrene insulation is the material of choice for both newly built and retrofit insulation projects. It provides an excellent alternative to traditional insulating materials which surpass the specifications of the National Construction Code Six Star energy-efficiency rating. Expol™ is designed to fit snugly between floor joists to protect homes from extreme outside temperatures.
The underfloor polystyrene insulation sheets are made of rigid expanded polystyrene derived from natural gas and petroleum by-products. The unique physical structure of expanded polystyrene is known for its flexibility, versatility and excellent compressive strengths. Polystyrene is also resistant to water infiltration, therefore preventing premature degradation and inhibiting mould proliferation and bacterial growth.
All Expol™ panels are manufactured in four standard widths (360mm, 410mm, 470mm and 560mm) and measures 1.2 metres long with a standard thickness of 60mm, to easily fit between the most standard joists. Both sides of a panel are cut concertina-style to allow compression of up to 20mm, making it easy to install and ensure a snug fit between floor joists.