Reduce Thermal Loss with PurLink Polystyrene Roof Spacers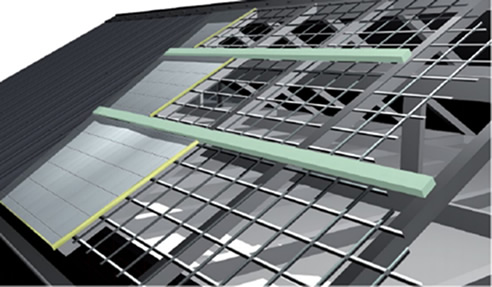 Polystyrene roof spacers are used to maximise insulation and reduce the thermal loss caused by thermal bridging. This occurs when a more conductive or poorly insulating material creates a break, allowing heat to flow across a thermal barrier. Thermal bridging is addressed either by building structural insulated panels, or by applying strips of insulation over wall studs.
As the industry leader in innovating different methods in polystyrene use, Foamex has developed a sustainable and practical solution to thermal bridging: PurLink Polystyrene Roof Spacers for commercial metal deck applications.
Extruded polystyrene sheets are utilised in the design and manufacture of PurLink polystyrene roof spacers. The closed cellular matrix of expanded polystyrene makes it impossible for vapour, moisture and water buildup, which can impact the thermal efficiency, to infiltrate the polystyrene sheet.
The unique physical composition of extruded polystyrene sheets also accounts for its high compressive strength, durability and dimensional stability - three factors essential to avoid the risk of non-compliance or having a failing roof system.
PurLink is specifically designed to provide a thermal break, allowing insulation to recover its nominal thickness and maximise thermal efficiency. The lightweight polystyrene roof spacers have a double sided tape system that makes installation fast and easy.
Foamex manufactures and supplies PurLink in a broad range of sizes that fits most commercial metal deck roof applications. Using state-of-the-art hot wire cutters, Foamex can produce 1.4 km of PurLink polystyrene roof spacers in just one cutting pass. This enables Foamex to deliver large quantities of PurLink within 24 hours after the order has been placed.