Polystyrene Roof Insulation: First Line of Defence Against Thermal Loss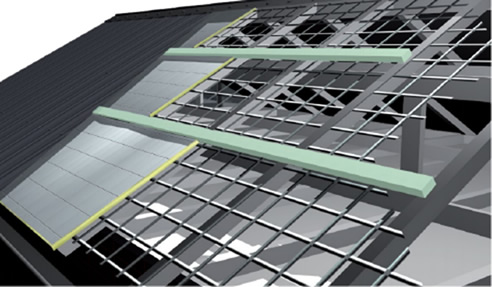 Polystyrene roof insulation is an innovative method of maintaining a comfortable indoor ambience in the modern Australian home. Whether for residential or commercial structures, roof spacers can be used to maximise insulation, while reducing thermal loss due to thermal bridges.
What is a thermal bridge?
Also called a cold bridge, a thermal bridge is an area of a building which has a significantly higher heat transfer rate than its surroundings. It occurs when a more conductive, or otherwise poorly insulated material, creates a break where heat flows across the thermal barrier. Thermal bridging can be addressed by building structural insulated panels, or by installing strips of insulation over wall studs. Foamex offers the high performance solution with innovative PurlinK polystyrene roof insulation.
What is Foamex PurlinK polystyrene roof insulation?
PurlinK insulated panels are highly robust roof spacers, designed specifically to help minimise thermal loss on commercial metal deck roofing applications. With PurlinK, insulation can recover its nominal thickness on account of the thermal break formed. The maintained profile of insulation effectively maximises thermal efficiency, while increasing thermal resistance or R-values.
The production team manufactures PurlinK roof spacers from Foamex's own Styroboard extruded polystyrene sheets (XPS). Widely used by top industry professionals, Styroboard XPS is trusted for its outstanding compressive strength. Its top-quality build allows PurlinK to resist breakage even after prolonged use. Lightweight yet dimensionally stable, the roof spacers provide high workability during installation, without compromising safety or performance. Thus, PurlinK significantly cuts back on time and manpower needed for application.