Foam Board Roof Insulation with PurlinK by Foamex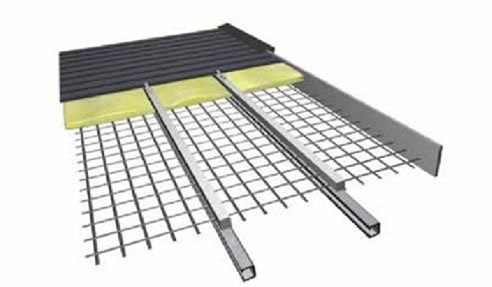 Foamex proudly offers PurlinK roof spacers for high-performance foam board roof insulation, especially in commercial structures. The building method aims to regulate indoor temperatures, right from the roof that is directly exposed to heat and the ultraviolet (UV) rays of the sun. In action, PurlinK helps maintain a pleasing ambience all year round.
Foam Board Roof Insulation with PurlinK
PurlinK is specially designed to help reduce thermal loss in commercial metal deck roofing applications. The roof spacers result in a thermal break that promotes the recovery of insulation to its nominal thickness. Hence, industry specifiers can lower heat conductivity, while increasing thermal efficiency with higher long-term R-values. In fact, PurlinK has been found to deliver up to ten times the thermal performance of traditional metal spacer systems.
Foamex manufactures PurlinK from their very own Styroboard extruded polystyrene sheets (XPS). Styroboard XPS has garnered positive reviews for providing superior insulation power with high initial R-values. In addition, its tight closed cellular matrix allows for high compressive strength and impermeability to water. PurlinK roof spacers are guaranteed to maintain thermal performance in the long run.
With its Styroboard XPS build, PurlinK is highly versatile and lightweight. These characteristics contribute to the excellent workability of the roof spacers, which can be easily cut to suit almost all roofing applications. PurlinK is available in a broad range of sizes, pre-prepared for instant installation with self-adhesive strips. Whether by a professional, or do-it-yourself enthusiast, the application of PurlinK can be achieved through the following steps: