Visual 3D Signage with Multipurpose Expanded Polystyrene Sheets by Foamex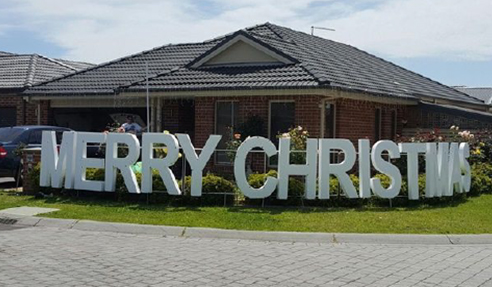 Foamex has been striding ahead in the Australian market for their Styroboard® multipurpose expanded polystyrene (EPS) sheet; A light and rigid material that is widely used for a range of applications ranging from building and construction to displays and signage.
Visual 3D Signage: Multipurpose Expanded Polystyrene Sheets in Action
Foamex extends their products and services to the art business, incorporating EPS sheets in the production of visual 3D signage. For years, 3D signage has been highly regarded as the most cost-effective form of advertising, that can't be matched by traditional or digital signs or posters; its large and distinct look easily and effectively grab the attention of every passerby.
Lightweight, easy to cut, and durable, the Styroboard® multipurpose expanded polystyrene sheet is the most ideal material for creating visual 3D signage. Foamex recreates logos, messages, or images through the latest technology, forming EPS blocks to an original or desired shape, size, and design. It also saves a large number of labour costs and effort since this polystyrene sheet can be easily transported to the site and installed simply by hand.
Polystyrene-made signage is manufactured in conformity with the Australian Building Codes; a testament to its quality and durability, Styroboard® EPS stands strong against weather extremities and direct exposure to specks of dust or chemicals. Additionally, the multipurpose expanded polystyrene sheets do not present a fire hazard, meaning it will burn when in contact with flame but then self-extinguish one the source is removed.
Environmentally responsible, Styroboard® EPS sheets are built with no chlorofluorocarbons (CFCs) and any other harmful gases. As a member of Expanded Polystyrene Australia (EPSA), Foamex also encourages proper disposal of EPS waste. Their four recycling facilities across Australia serve polystyrene end-users in reusing, remoulding and reforming used EPS into new products.
Apart from Styroboard®, Foamex also offers other multipurpose expanded polystyrene sheets including Diamond Pods®, Expol®, and Purlink®, used for different applications.
To know more about the multipurpose expanded polystyrene sheet used for visual 3D signage, contact Foamex or visit www.foamex.com.au today.