Foamex Diamond Waffle Pod Expanded Polystyrene Sheets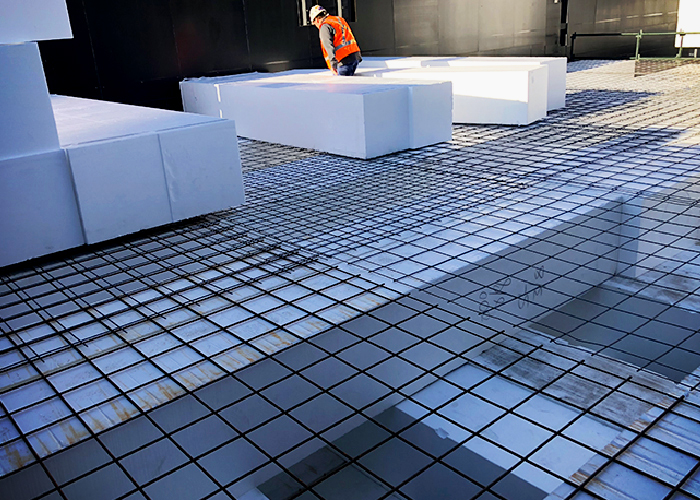 Architects and engineers have grown accustomed to the use of expanded polystyrene sheets and Waffle Pods, as highly functional building material's that has become a necessity to meet present construction method standards. Both void systems, offer excellent attributes such as insulation, versatility, durability, plus recyclability, in a low-density lightweight package making it the most cost-efficient alternative to a traditional concrete pour.
For more than three decades, Foamex remains the leading choice for the supply of expanded polystyrene products across Australia. Seeking a better developed built environment that is sustainable, Foamex innovated a strong yet light waffle pod void former system for concrete slabs - Diamond Pods.
Diamond Pods are comprised of expanded polystyrene that has been strategically engineered in a unique diamond void pattern giving them a distinct style and shape for optimum underslab insulation and support.
Diamond Waffle Pods: Preparation and Installation
Preparing the ground where Diamond Pods will be installed is of paramount importance to the overall project. Planting is prohibited anywhere near the slab as roots may cultivate beneath, causing gaps and risking the whole structure in cases of unforeseen soil movement.
The Diamond Pod is installed with the cavity facing down. To hold the entire system together and to ensure that the Diamond Pod will stay in place during the pour, Foamex locks them in using Diamond Pod Lock-In Spacers.
This method reduces the consumption of concrete, which traditionally takes a long time to transport, install, and cure. Diamond Waffle Pod & expanded polystyrene sheets create a structurally stable underslab with incredible strength and resistance to movements such as cracking or twisting caused by extreme weather or temperature.
The waffle pods are also deemed safer for people and the environment. They are manufactured with no ozone-depleting gases like CFC or VOC, and conform to the building codes and standards set by Australian builders and government officials.
Foamex has four recycling facilities in Sydney, Melbourne, Adelaide, and Brisbane who serve all EPS end-users. They reform used polystyrene sheets into new products using their latest granulating machines.
Head on over to www.foamex.com.au for more information on Diamond Waffle Pod Expanded Polystyrene Sheets.