Responsible Distribution of EPS Foam for Construction by Foamex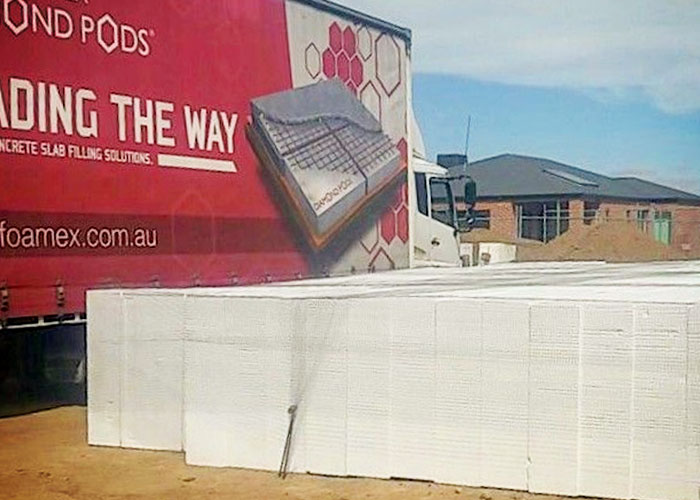 For over three decades, Foamex has prioritised their responsible distribution of EPS foam blocks and waffle pods in Australia. They comply with all local building codes and standards in every stage, from manufacture and storage to shipping and sustainable waste handling. Foamex guarantees their polystyrene products will pose no threat to the health and safety of end-users or the environment.
EPS foam blocks and waffle pods are environmentally-friendly alternatives for the reduction of concrete used in construction. They are typically employed beneath concrete slabs not only for structural support but to increase insulation. Builders all over the world already recognise the benefits of installing EPS foam blocks and waffle pods because of their cost and energy-saving attributes without a compromise on quality.
Foamex supplies EPS foam blocks and waffle pods as per the recommendations provided by Expanded Polystyrene Australia (EPSA), the peak national body for the manufacture and distribution of polystyrene products. Guidelines include:
Conducting utmost diligence regarding the use and storage of EPS foam on building sites.
Considering weather conditions before delivery to prevent compromise due to high wind or rainfall.
Securing products in smaller allotments when delivering on windy days to prevent lift-off.
Providing customers with bags for clean-up on-site.
Securing EPS foam with approved tie-down methods upon delivery.
For responsible disposal, collecting clean EPS waste within two days after notification from the customer.
Recycling and granulating waste materials into new products to achieve a circular foam economy.
All Foamex EPS foam products arrive on site shrink wrapped. They are secured with a net over the top and sides then attached to the ground with pegs. Foamex also provides bags to store off-cuts, to be collected for recycling.
Get in touch with Foamex to learn more about their EPS foam blocks and waffle pods. Head over to www.foamex.com.au today.