Waffle Pod Slab Design: Construction Process with Foamex Diamond Pods™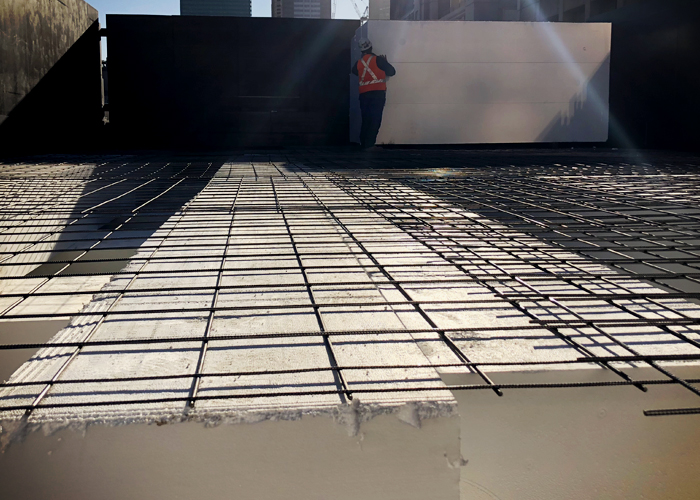 Waffle pod slab design is gaining popularity in the construction industry because of its strength, durability, and is perfect for prefabricated or on-site projects. It consists of a flat top surface with a grid-like or waffle pocket system underneath, with joists that are spread out perpendicularly from one another. Built on-ground, a waffle pod slab design eliminates the need for concerted trenching, reducing construction labour time and costs.
For minimal impact on the environment builders use Foamex Diamond Pod™, a polystyrene waffle pod void former system that is light yet extremely sturdy and designed to lower the amount of concrete required. Carried by hand, Diamond Pod™ is easier and safer to transport on-site plus is installed without the need for heavy equipment. With its natural air pockets, it also provides a higher level of insulation, with a thermal rating of up to R1.0 (W/MK thermal resistance), meaning, it will help the building achieve a balanced room temperature throughout the year.
Foamex Diamond Pod™ Construction Process
Ensure that the building site has a flat area. Cut and fill the site with sand if needed to establish a completely levelled surface. Remove any plants near the slab as they may cause soil gaps, which can lead to risky surface movement in the future.
Carry out under slab works such as plumbing, termite treatments, and other underground utilities.
Install edge formwork right on the grid. Builders recommend covering the area with plastic sheeting to keep the sand in place and prevent any moisture buildup into the slab. Ensure that all pipe joints are taped.
Lay out the Diamond Pod™ in a grid pattern. Built in a unique size and shape with a foam deck thicker than standard waffle pods, it has enhanced foot traffic support for safer construction.
Lock the Diamond Pod™ with Diamond Pod Lock-In Spacers to ensure that the foam blocks will stay in place. This establishes a structurally stable underslab with incredible strength and resistance to natural soil movements.
Install any bracket or steel reinforcing mesh system based on design specifications. Have the slab inspected by an accredited authority to ensure that it is built in conformity to engineering standards.
Pour concrete over the waffle pod slab design. Vibrate the ribs to secure even pouring.
For further inquiries, contact Foamex or head over www.foamex.com.au today.