Translucent Polystyrene Sheets for Special Events from Foamex
Not limited to the building and construction industry, Foamex can also custom cut and supply translucent polystyrene sheets for a range of creative applications - shop fitting, 3D signage, sculpture, or any props in any shape or size. Thanks to the ultimate lightweight and flexible properties of polystyrene, they are easier to handle than most traditional materials, allowing specifiers to effortlessly bring complex and oversized props or exhibits to life.
Translucent Polystyrene Sheets for the White Night Festival, Melbourne
Foamex EPS was behind the versatile translucent polystyrene sheets that were utilised for the design of this show-stopper art installation for last year's White Night Festival in Melbourne. Artist Joe Blanck hand-picked these EPS sheets to build The Guardian, a large creature reminiscent of a giant lion which was dubbed as the largest, most ambitious creation to date.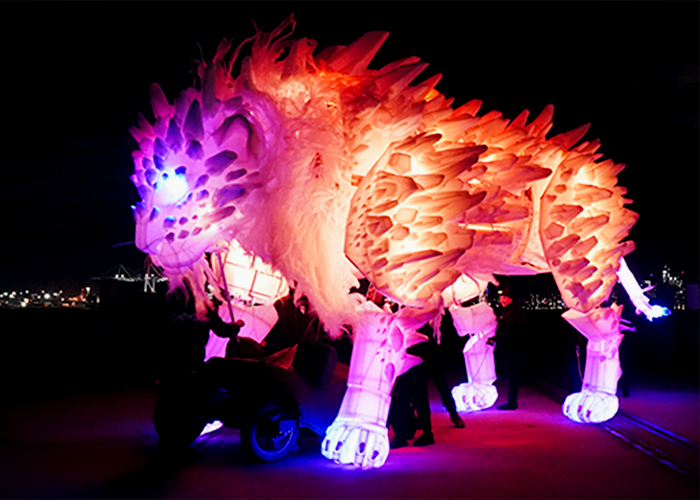 Joe has been a huge fan of expanded polyethylene sheets. Previously, he would use a fibreglass, which is heavier and harder to work with. It was a few years ago when he discovered the excellent properties of EPS foam sheets, which appeared to be significantly lighter and more flexible, yet are rigid and resistant. Plus, they are also easily joined together with just a hot glue gun, which is beneficial for large installations like The Guardian.
The Melbourne-based artist was even more impressed because of the translucence property of the polystyrene sheets. From the 30 floodlights and thousands of small LEDs, the EPS foam has effectively diffused the light, giving the art a stable ethereal quality that fibreglass couldn't provide.
It took four months to build this 10 metre long and 4.5 metre high creature. The result is truly magnificent, impressive in both size and intricate details. Joe's canvas has received plenty of praise from both the client and festival goers.
If you are interested in learning more about translucent polystyrene sheets from Foamex, contact the team for more information, or visit www.foamex.com.au today.