Increase Road Safety and Stability with Lightweight Expanded Polystyrene Blocks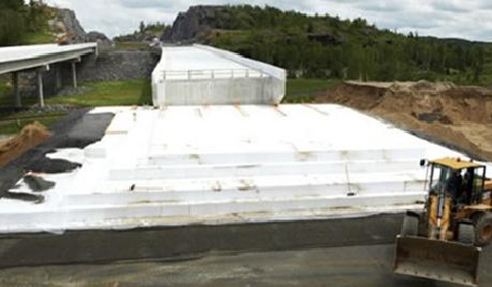 Each year, the global demand for the lightweight expanded polystyrene (EPS) blocks has been consistently increasing, thanks to their versatility and unparalleled functions. Engineered in compliance with the Australian Building codes and standards, EPS has been regarded as the most efficient alternative solution to traditional concrete mixings.
With a track record spanning more than three decades, Foamex remains on top of the polystyrene business. Built from the finest grade materials and latest technology, Foamex's outstanding catalogue of expanded and extruded polystyrene products has greatly contributed to the advancement of today's architecture, bringing a more sustainable yet safe and stable environment for all.
Styroboard™ Lightweight Expanded Polystyrene Blocks for Road Safety and Stability
Styroboard™ has a closed and rigid cell composition that is highly stable and durable. A perfect solution for road embankments, bridge projects, and railway tunnels which withstand daily heavy volume and traffic loads.
EPS blocks are filled and layered at specified depths to protect pipes plus prevent the risk of construction failures; its rigid composition accounts for a stable and safe ground, preventing the lithostatic pressure on a soil or rock layer.
Furthermore, Styroboard™ has an excellent water and vapour resistance that enhances the road's stability and durability; the lightweight expanded polystyrene blocks will retain their original shape even after exposure to weather extremities. Application of the lightweight polystyrene blocks also prevents the formation of soil frost that induces premature cracking and uneven surface layers. These characteristics result in less maintenance and replacement costs.
Lightweight in nature, Styroboard™ blocks are easily transported, carried, and installed on site, saving valuable labour time for workers. They are also highly customisable; easy to shape to fit the specified requirements for the construction.
For more information about the lightweight expanded polystyrene blocks, contact Foamex or visit www.foamex.com.au today.